Adacto and Volponi, once again together: they "team up" for Iper
Adacto has developed with Volponi "Facciamo Squadra", the digital programme by Iper for amateurs sport activities.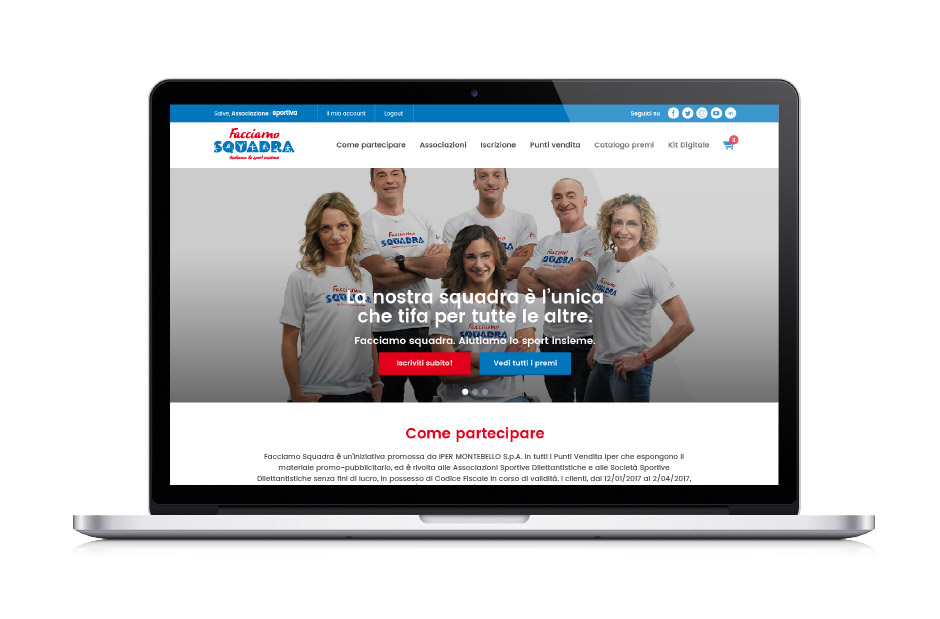 A Website and a Mobile App, these are the digital tools dedicated to the initiative "Facciamo Squadra" (literally "let's work as a team"), which is promoted by Iper Megastores and which is addressed to all the Amateurs Sport Clubs and Associations involving any sort of activities, from the skating to the sailing, from yoga to the rugby, even alpinism.

The initiative works in the way of the collection, but this time clients, by purchasing in one of the Iper stores, can offer as a gift their own points to the nearest Sport Club, the same one where they train with enthusiasm and team effort. Each club, acquiring the points on its own virtual account, can this way get the prizes provided on the dedicated catalogues.

The entire initiative is managed within the web application Facciamosquadra.iper.it, which, on top on giving in-depth material, allows the Clubs to have customised accesses and makes available for them the final outstanding points and all the gifts they can require. Furthermore, thanks to the App (on Google Play, Apple Store and Windows Store) is possible to upload the points with just a picture of the EAN code appearing on the bonus post-card that clients take to the Club.

Adacto designed and realised the entire digital system, by co-ordinating with Volponi the requests of the Iper Stores engaged in the project and by optimizing the process in real time. An evident proof of how important teaming up can be!